Concerning pre and post sales services, technical training has always been a distinctive characteristic of Spotlight, especially for high technological content products.
In Spotlight Academy project, Spotlight has invested decades of experience in operators and lighting technicians training for theaters, opera houses, art academies, service and rental, technical institutes and universities, developing content and courses recognized with Quality Certification.
Lighting technology class
The lighting engineering class is aimed at training professionals in lighting engineering for the show such as lighting designers, lighting architect, light programmers, media server operators, … The class aims to deepen, both from a theoretical and practical point of view, everything is useful for a correct lighting design.
The class provides an overview of the main aspects of lighting technology, in order to give technicians and designers knowledge and skills for a conscious and effective use of light in their projects.
The courses are dispensed in the new Spotlight Course Room, a space equipped with the most modern infrastructures to allow students to experience the best technologies offered on the market today.
The course can also be dispensed in collaboration with educational institutions and supplementing University Masters Study Plan.
At the end of the class a final exam will be performed to consolidate the skills acquired and a certificate of participation will be issued.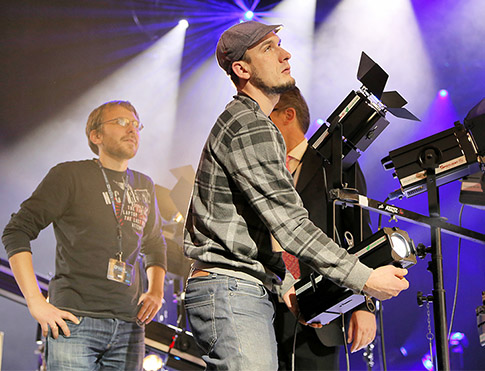 Light Sources
Light: possible definitions
Main characteristics of a light source
Main types of lamps
Light quality
Light correction factors
Photometric data
the four base quantity
light distribution curve
luminous efficacy
appliance efficiency
beam spread
Light appliances
What are they/What are they for
Optical system : refraction, reflection, absorption
Main components (traditional appliances VS Led)
Main product families
How to recognize a professional product
Confirmation of enrollment– Enrollment is confirmed when the student or company pays the course fee.
Cancellation– It is possible to replace the participant with another one from the same company at any time. Any renunciation by the interested party must be communicated by email, at least 4 days before the start of the class. Cancellations received after this deadline or failure to participate in the class will result in the withholding, as a penalty, of the entire participation fee.
Postponement or cancellation – Spotlight reserves the right to cancel or change the class date at any time. In this case Spotlight will simply refund the participation fee or transfer it – on customer request – to another initiative.
Other conditions – Students must respect the starting and end time of the lessons. Students will be jointly and severally liable for any damage caused to the environments and equipment made available to them by Spotlight.
Subscrioption fee – The participation fee is per person and includes the use of the premises, systems and material necessary for the exercises. It is possible to take advantage of the hotel booking service with Spotlight convention, by communicating the request at least 7 days before the start of the class via email.